Quick tips: Safe and effective training for Autumn and Winter races
3 Apr 2023
Autumn is here. For many, it's the time to lace up your running shoes and start training for an Autumn's worth of races.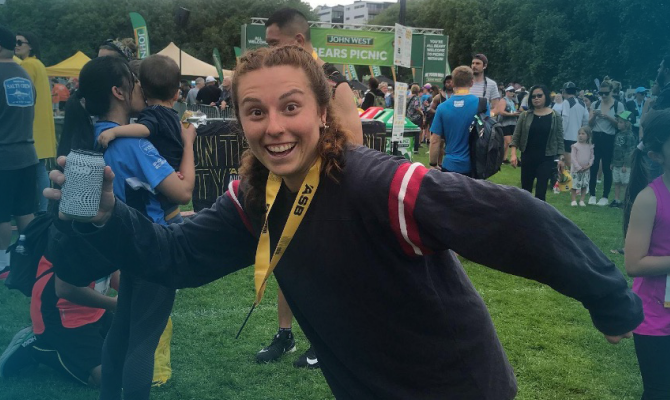 Katy Relph, Musculoskeletal physiotherapist at Habit Health.
I've been a runner, swimmer, and all-around athlete since I was a kid. Growing up in rural Beachlands – roughly 30km to the nearest supermarket – I was lucky enough to have a super active childhood. As a young teen, I found a passion for cheerleading and really gave that my all for about eight years. During that time, I was part of the New Zealand representative team that won the World Cheerleading Championships in Florida in 2015. That was a real highlight for me.

Because exercise and training have always been a big part of my life, I tossed up between becoming a PE teacher or going down the physio route. I chose physio, and for a few years now have been able to help people achieve their goals and recover from injuries. My uncle is a physio too and seeing how he worked with sports teams and athletes was massively inspiring in those early years.
Once Autumn leaves start appearing, I know it's time to ramp up the training. For the last few months, I have focused specifically on running training.
A lot of my clients are runners too – which I really love. It means I can go in-depth with them about specific training techniques and use my own knowledge to help them succeed. I find a lot of satisfaction in hearing my clients tell me about their latest personal best.
Here are some of my top tips for running training to help you prepare for Autumn/Winter:
Recovery is just as important as your actual training sessions. This is a big one – you need a good nights' sleep, upping your protein intake, getting enough carbs, and making sure you fuel your body correctly during your longer runs. This sounds basic, but I can't stress this enough – think of recovery, nutrition, and sleep as part of your training (it's not just running!).
Some strength training is vital. It probably shouldn't be every day but doing some strength training is great for injury prevention. Something I always tell my clients is that when you're running, you're pushing three to five times your bodyweight off each step. That can be really hard on your muscles, tendons, and ligaments, and if you're not used to it or have a good base of strength, you're going to get fatigued very quickly. And when you're running while fatigued, the risk of injury is heightened.

I'd recommend doing a mixed routine of strength training; quite a bit of core and glutes, hip stabilisation exercises, and pilates. I find lifting weights works really well to build up strength, especially doing heavy, high-volume lifting. I'll start the month with heavy 5x5 squats and deadlifts, and progress through the month towards more endurance-based exercise up to bodyweight. This really works for me, and I've found it's worked well for a lot of my clients too.
Listen to your body. It sounds basic, but if you feel absolutely knackered, you shouldn't be running. If you can maintain a conversation while running, you're at the right pace for a base building session. If you can't, you're doing a workout run, and you should be pushing yourself. Save your hard effort for your workout runs – one or two per week. But if you're running at a 'moderate' pace for all your runs, you'll find your hard runs also turn into moderate because you can't push yourself. Plus, pushing through pain increases your risk of injury dramatically. To put it simply, about eighty percent of your runs should be done at an easy pace. If you feel like you should be running faster (your 'guilty' pace), you're at the right speed for a training run.
Running a longer race, such as a marathon or half-marathon, is an awesome achievement – no matter what your time. It takes determination, effort, and a whole lot of preparation over a matter of months. It's absolutely brilliant to see my clients succeed in their running goals, and it's such a great feeling to know that I've helped them achieve what they set out to do.
Our team of physios at Habit Health East Tāmaki (as well as the wider Habit Health team across the motu) are always ready to chat with you about your fitness and exercise goals. If you're keen to get some expert help with your running, make sure you get in touch with us.
Happy training!