Christian Davey – mastering three sports in one
25 Nov 2022
Habit Health is a proud supporter of Wellington Triathlete Christian Davey. He enjoys the chance to get out of the chlorine and enjoy the saltwater pool at Habit Majestic and ease the muscles in the spa, sauna and steam room.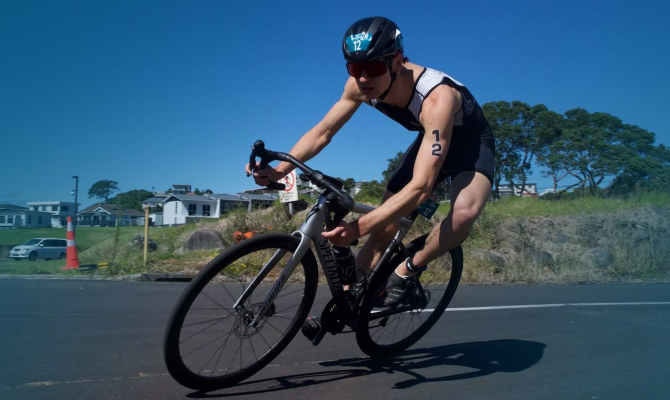 We had a chat with Christian to hear about the grit and determination that's got him to where he is today.
Christian Davey, now a 25-year-old, always loved sports growing up – rugby, tennis, cricket, and anything else he could join in on, he would. He gave a bunch of team sports a crack.
"I was never inside as a kid, I was never into gaming or TV, you'd always find me outside in the fresh air running around, and I guess that's never changed," says Christian.
It wasn't until a few years later that he took an interest in the path his brother and dad had taken. His brother was already a triathlete and his father was a cyclist. He decided to follow in their fit footsteps, taking on duathlons (run, bike, run).
Not one to do things in halves (or two-thirds!), Christian took it further and trained as a swimmer to make it a trifecta – swim, bike, run – and he's been at it for eight years.
"I've been training super hard to become a top-level swimmer. Most people who do triathlons have been swimming since they were young, so I've had to work twice as hard in the pool," says Christian.
Christian currently splits his time between training as a triathlete and as a part-time urban planner. When he studied full-time at Massey University, he also trained full-time, which was no mean feat. His dedication to sport saw him through.
"I just love it. It's the diversity of the sport, being able to train hard and compete in three disciplines."
"I run with runners, swim with swimmers, and bike with cyclists. I do my best to compete at a high level at all three."
"Being a triathlete is a whole lifestyle; everything I do has to shape around being a triathlete."
"A lot goes into it behind the scenes. The food prep, leaving the house in the morning with three sets of training gear, making sure my bike is sorted, making sure my body is conditioned, and these days – keeping up my social media posts! It's all part of it," says Christian.
While Christian does his swim, cycle and run solo, he says triathlon is much more than an individual sport.
"I have a whole team behind me putting their heart and soul into getting me to the highest level. I feel grateful to the people that have stuck with me and have felt connected to what I'm doing."
"It makes it easier, and I couldn't do it without these people behind me. Being able to come into the Habit Health gyms, and feel at home there while training is such a plus for me, and it's part of that wider team that's supporting me."
"One day I'd like to make it to the Olympics or Commonwealth games. That's my goal. But for now, I'm gearing up for the upcoming summer season here in Aotearoa, and looking at the potential of chasing the European summer for some races over that side of the world," says Christian.