Meet Barney Johnson - Massage Therapist
1 Nov 2022
We had a chat with him to find out more about massage therapy, and what makes him tick.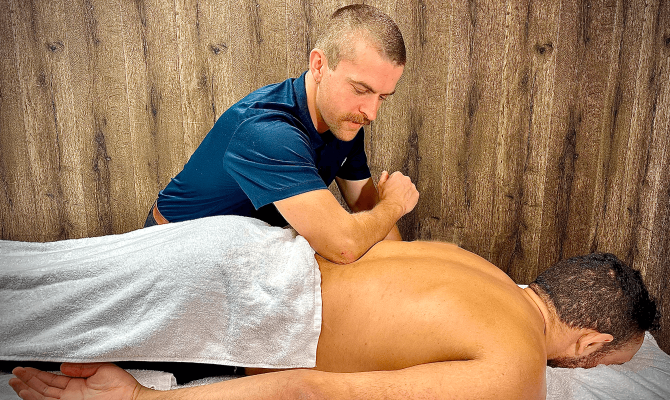 Barney studied at the Melbourne Institute of Massage and Myotherapy. His speciality areas of massage are trigger point therapy, myofascial release, stretching and mobilisation, cupping, relaxation massage, sports massage, deep tissue and remedial/therapeutic massage.
What inspired you to become a massage therapist?
I've always been interested in the human body and its ability to heal, and thought helping others to heal would be a satisfying career.
I'm a really active person too. I enjoy things like hiking and diving, so I understand what it's like when you can't do what you love because of pain. It's so rewarding being able to help people get back to the things they love.
What do you enjoy most about being a massage therapist?
It's so satisfying helping people to achieve their physical performance goals and improve their quality of life by easing pain, tension and or stress.
Also giving people a space to relax and uplift their well-being is satisfying - especially when life these days can be so busy.
What do you do in your spare time?
I play the drums in a band called Tahini Bikini. We play around town often and go out on the road around New Zealand now and then.
I also enjoy making furniture, writing, reading, cooking, hiking, diving, and simply being outdoors in the open air with friends.
What are the benefits of massage therapy?
Massage helps relieve physical pain, and when you aren't bothered by pain your mental state is improved by feeling better and living more freely - especially if it means getting back to the things you love.
Massages leaves people with all the good stuff - endorphins, dopamine, serotonin and oxytocin! These can improve your sleep and energy levels, reduce stress and anxiety, and help you maintain a more positive state of mind day-to-day.
And of course, there's nothing better than post massage bliss!
What is involved in your remedial massage therapy treatments?
My way of doing remedial, therapeutic and sports massage, as opposed to general relaxation massage, means treating the specific problem area causing the pain in a relaxing way.
That means you get the benefits of a focused, targeted treatment, and a wonderful relaxing massage at the same time.
Yes, there is some pain, but it's good pain! And it's not constant. It won't hurt more than it needs to and no more than is tolerable for you - I always check-in as we go along. I apply as much pressure as necessary for what's being treated.
Depending on the area we're treating, sometimes the area will be tender afterwards, but not all the time. I provide aftercare advice where necessary so you can get the most out of the work we have done.
Come in and see for yourself!
Book in with Barney for a treatment today.