Getting back into exercise after COVID-19
1 Jun 2022
By now, we all may know someone or be that someone unlucky enough to contract the all too prevailing Omicron variant. While it's a relief for the medical advances that vaccine technology has brought to our daily lives, many of the side effects Omicron brings on may still be hard-hitting. One, in particular, is how it affects our exercise tolerance.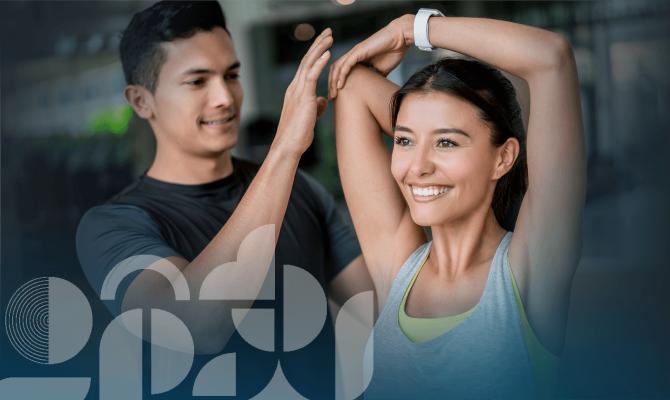 Unfortunately, research for mild to moderate cases still leaves much to be desired. However, we are starting to see some evidence come through about how best to recover and reintegrate into your daily activities.

Below is a suggested guide on how you could approach your journey back into exercise. Please note that this guide doesn't consider each person's individual circumstances, so only use it as a suggestion to help you and seek advice from your healthcare provider where needed.
About this guide
This guide is broken down into five phases (Elliot, me ētahi atu, 2020). Before you approach your exercise programme, there are a few things you may want to see first;
Ensure you've had at least ten days rest from the first onset of symptoms, plus;
You have had at least five to seven days symptom-free and off paracetamol
Once you have hit the above key indicators and your health provider is satisfied with your progress, you can approach your programme to get you back into your exercise routine.
Phase one – Prioritise rest with light activity
At this stage, your body is still likely working hard to recover from the onset of symptoms. Ensure your body is still getting as much rest as it needs. On days when you're feeling good, you may be able to introduce light walking or get back into other living tasks (housework, for example) (O'Connor & Franzos, 2022). The rule of thumb is that these activities should feel easy and not make you short of breath (Returning to physical activity and exercise after COVID-19, 2022).

Spend at least ten days in this phase to allow your body as much time to rest and recover (Elliot, me ētahi atu, 2020). Fighting off a virus takes up a lot of energy, so it is understandable and completely common to feel tired and out of whack. Be kind to yourself and patient with your body in this phase.
Phase two – Introduce light exercise
Once your energy starts to come back and your symptoms have improved significantly, you may be ready for the next phase. In this phase, you can slowly begin to ease into light exercise. Incorporate a light amount of movement into your routine, such as brisk walking, light jogging, cycling or resistance training (O'Connor & Franzos, 2022). These exercises may make you breathe heavily, but you should still be able to hold a conversation while doing them (Returning to physical activity and exercise after COVID-19, 2022).
Spend a minimum of three days in this phase and a maximum of 15 minutes doing an activity. Listen to how your body responds after each session to understand where your limit is in that stage (Radcliffe, 2022).
Phase three – Increase frequency
In this phase, begin to increase the intensity and frequency of your training. Gradually increase the load in your sessions, whether additional weight or distance to your run and then introduce more sessions into your routine. Some people may still be managing fatigue symptoms in this phase, so as usual, take a step back if you think you may have gone too hard (O'Connor & Franzos, 2022).
You may be able to increase your sessions to a maximum of 30-45 minutes at this point but spend no less than three days in this phase.
Phase four – Increase duration
Your body may feel stronger and more tolerant to movement by now. Your next progression is to increase the intensity of your workouts. You may feel ready to increase your sessions to up to 60 minutes per session (Elliot, me ētahi atu, 2020).
Continue to allow your body enough time for recovery between each phase, rest when you need and spend a minimum of two days in this phase.
Phase five – Resume to normal activity
You may feel like you're reaching your pre-COVID baseline in this phase. With your tolerance for exercise increasing with each session, this phase is the final step for you to resume your normal training programme. As always, listen to your body, rest whenever you need and don't overdo it. Allow for enough recovery between each training session for optimal progression.
Summary
The main message coming through from experts is COVID patients should ease into daily activity slowly (Radcliffe, 2022). Much slower than they think they need to. COVID can affect not only your respiratory health but your cardiovascular health too, among other areas of the body. So, it's important to allow your body enough time to rest and recover before progressing into any phase of exercise and consult your health care provider with anything you may not be sure about.
Disclaimer: Please note that COVID affects everyone differently; therefore, this is not tailored advice that considers your unique circumstances. Only use the above article as a guide and not concrete advice. We recommend working with your primary healthcare provider to determine what works best for you.
At Habit Health, we have personal trainers who can create a customised programme to help re-build your exercise tolerance and get you back to baseline. Book in with one today.