Five benefits of working out at a gym
3 Jun 2022
If it's been a while since you've worked out at a gym, we get it; it can take some time to get your mojo back after a lengthy hiatus. With all the online workout options available to you at home as well, why not just stay behind in the cosy confines of your own living room? We're a big fan of having a dedicated space to exercise outside of the house, so in this article, we share our favourite reasons why working out at a gym can be more beneficial for your health goals in the long run.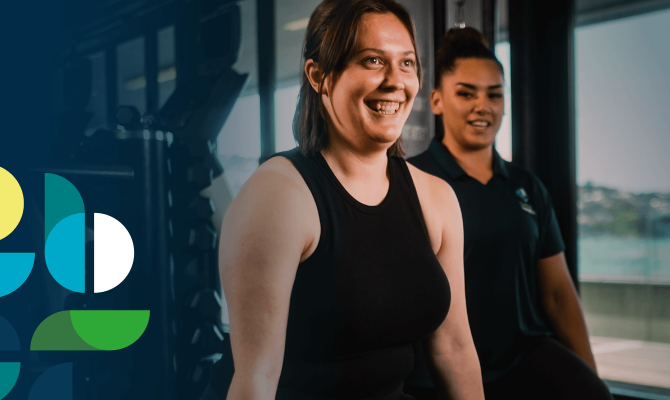 Reason #1 - Community

We've all heard the saying that there is strength in numbers. This really rings true when it comes to working out with your community. Making those daily sacrifices to build healthier habits takes grit and courage, so knowing you're not alone on this journey is comforting. Working out in numbers as a community helps to build and create a symphony of support for each other.
At the gym, you're joined by like-minded people who also want the best for themselves and you're supported by a team of experts to cheer you on and champion your success. Gyms and health clubs are a safe and judgemental-free space with people working towards a similar outcome. You can learn from each other and may even build new friendships along the way.
Reason #2 - Classes
At a gym, you can get inspired by an array of group fitness classes on offer, led by expert instructors. Classes are a great way to spice things up if you're stuck in a rut. They help you learn new skills and refresh existing knowledge on form and technique. Get top pointers from your instructor and improve your confidence in a supportive space.
At Habit Health, we offer:
H.I.I.T
Power
Spinning
Barre
Yoga
Pilates
TRX
Boxing
Reason #3 - Amenities
Working out can be way easier when you have the tools, equipment and space to support you. Try free weights or the array of cardio equipment on offer at your local club.
Habit Health Fitness Clubs are kitted out with a sauna, cardio room, weights area and premium changing rooms with shower facilities. At our Majestic Fitness Club, we even have a 33-meter saltwater pool, steam room and spa to support your post-workout recovery. Find out more about our gyms here.
Reason #4 - Focus
There aren't many distractions at the gym, which means you have nothing to do except to get your workout done. Committing yourself to get to the gym makes it way easier to focus once you're there.
We often have so many distractions at home, whether they are kids or other people who depend on us or maybe that snuggly blanket on the sofa, calling out our name for a bit of Netflix. Once you've carved out time to step away from the home chaos and into the fitness haven, you're there and ready to get it done. You have nothing to do, nothing to worry about, aside from being present in the moment to achieve the exercises you've set out for the day.
Reason #5 - Motivation
Are you still feeling unsure? The final reason for working out at a gym will make the biggest difference to your workout: Motivation.
Working out amongst a group of supportive and like-minded people can be motivating. Seeing others prioritise their health can be inspiring. If you're someone at the start of your health journey, you get to see what may be possible for yourself in what you may be able to achieve one day. Working out at a gym isn't about comparing yourself to others; it's about finding inspiration, guidance and support through people who have been in a similar place in their health journeys.
Not only this, but once you sign up for a membership, you're more motivated to use it because you've already made that investment in yourself.
The hardest part about starting something new and making it a habit is just making a start. But significant feats can be conquered by breaking the process down into small incremental steps. Maybe your first step is to walk into a Habit Health Fitness Club and sign up today.