Spotlight on Jordan Salesa
28 Jul 2021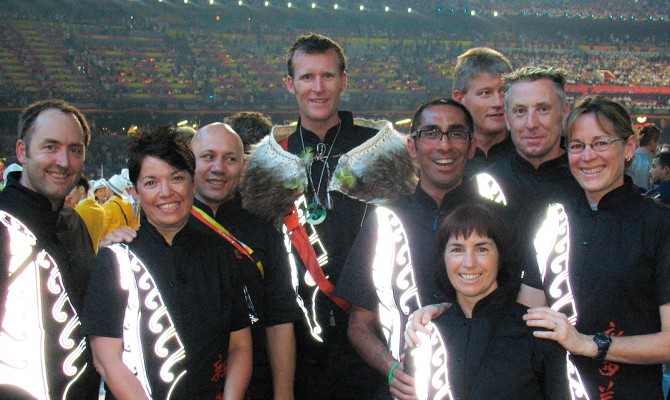 Jordan Salesa says it's a privilege to be working with people at the pinnacle of their careers.
Of Samoan descent, the former co-owner of Physio Rehab Group (PRG) is attending his sixth Olympic games as a physiotherapist for the New Zealand team at the Tokyo Olympics, his third time as the lead physiotherapist. New Zealand will have the largest team competing in NZ history with around 220 athletes.
Jordan works with elite athletes for High Performance NZ and is the lead physiotherapist for Swimming New Zealand. As a husband, father, son, and colleague, he says he owes his success to the people that surround him.
We had a chat with Jordan about his experience working for the Olympics and his career highlights.
What is your role at the Olympics?
I lead the therapy group, which is part of the wider NZ medical team. The therapy team includes five physiotherapists and two massage therapists. We provide ongoing support before, during, and after the games for the NZ athletes. Our main objective is to continue building on what athletes have been working towards for the past four years. The main goal is for our athletes to be bigger, stronger, faster in whatever they do.
Supporting an athlete is slightly different than working with patients in the clinic. We typically already have extensive base information about the identified athlete, including their goals, baseline abilities, strengths, and historical injuries. An athlete also has a support team consisting of psychologists, nutritionists, coaches, and other support people. So our primary role as physiotherapists is to provide support where needed on a needs basis, whether giving massage, treatment, or advice on exercises. Athletes are also used to competing at an elite level, so they know their bodies well, which helps.
Why did you decide to become a physiotherapist?
I've grown up loving sport, and I found physiotherapy was a good pathway to continue my involvement in sport. I have a strong desire to support and help my aiga and people generally.
This stems from my multicultural upbringing, parents, and culture.
What have been some of your Olympic highlights?
I love being around people who are at the pinnacle of their careers. It's a privilege to be a part of their journey. My highlights have been the moments that people never see at the games.
One moment that stuck with me was when we were in Athens, and we welcomed Sarah Ulmer back after receiving her gold medal. That was a special moment, celebrating with her. Another moment is when Valerie Adams gave me a bit of banter soon after winning her medal.
The micro-moments of realness are what stay with me. Our New Zealand athletes are humble people at the end of the day. They're just driven people who have given everything they've got for a prolonged time, knowing they might fail but also might succeed. They do it for themselves, their family, their country, and their own glory.
I also love the exchange of culture that takes place in the Olympic village when the cameras are off. Countries always look forward to the New Zealand team performing the haka and waiata. Other countries share parts of their culture too; it's a really special experience. Despite the fact we are all competing against each other, we all make special connections and build common ground.
Who has been your biggest inspiration?
My family has been a big part of my journey. They have always managed to both challenge me and support me in everything I set my mind to. Furnishing me with an intimate understanding of sharing, communication, tolerance, and experience. My strengths emerge from my family, to whom they return.
A saying that's resonated with me is;
"Ki te kotahi te kākaho, ka whati;
Ki te kāpuia, e kore e whati."
If a reed stands alone, it can be broken;
If it is in a group. It cannot.
When we stand alone, we are vulnerable,
but together, we are unbreakable.
What is some advice you give to aspiring physios who want to make it to the top?
To get to the pinnacle of where you want to be, you need to commit and make sacrifices.
In the first ten years of my career, I did a lot of work before I got anything in return. Success doesn't happen overnight. It takes a lot of groundwork, a lot of sacrifices to position yourself to where you want to be. Just stay committed, stay focused, don't lose sight.

About Physio Rehab Group (PRG)

Physio Rehab Group (PRG) is a group of over 100 physiotherapists with a mission to serve their communities and help them to live their best life. Habit Health has now joined forces with PRG to help support their mission of altogether better health for our communities.