Back on Track: Recovering from an injury
13 Sep 2021
With a love for running, Ken does not shy away from strenuous endurance training. However, after five months of training for the 2017 Queenstown Marathon, he encountered a serious knee injury that would take a turn on his training path for years to come.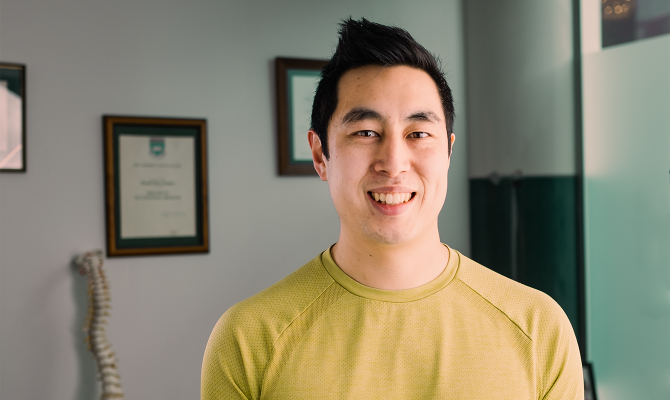 A block in the road
In October 2017, during a short 10km training run, Ken started to feel pain in his left knee. Immediately he knew something wasn't right and decided to stop running for the day. He continued with some lighter runs over that week, but the pain persisted. That's when he knew he needed some advice from an expert. Working with a few physios, he learnt he had a hamstring insertion tendinopathy in the left knee.
Tendinopathy is a common injury that can occur in runners as a result of overload, lack of strength or incorrect running technique. This results in changes in the tendon which results in pain and limited function.
Previously Ken had successfully completed three half marathons without any problems. He was an avid runner, training three times a week, supplementing with other sports like swimming and cycling. Working towards a full marathon felt well within his reach.
"At the time of the injury happening, I felt really low in my mental health. I went from being able to run distances of up to 30 km to not being able to run at all," Ken added.
Overcoming the hurdles
Following his injury, Ken worked with different clinicians throughout his recovery to try and regain full function in his knee. While the rehabilitation allowed him to manage his pain and run short distances again, Ken was motivated more than ever to return to the level of endurance he experienced pre-injury.
"The physios I worked with really helped me reach a point of experiencing little to no pain and I was really happy to be running again. But I wasn't able to progress any further and that's when I knew I needed to switch and work with someone who could help me excel again," says Ken.
Ken decided to continue his rehabilitation programme with another physiotherapist who had experience working with runners and a strong interest in lower limb injuries common in sports athletes.
An injury like Ken's can be relatively common in runners. Particularly for people who begin training by themselves and don't receive much guidance from a professional initially.

Ken began his revised rehabilitation programme with the physiotherapist by going through his history and analysing his running technique. From there, the physiotherapist could identify discrepancies in his running technique that may have contributed to the strain and overall his injury.
Ken's rehabilitation programme involved fortnightly physio appointments where he received hands-on treatment, strength and conditioning exercises to complete at home, followed by running technique drills.
Physiotherapy provides patients with the tools to aid them in their recovery. For the best possible outcome, it is important to complete any prescribed exercises in order to improve mobility and function of musculoskeletal injuries.
Back on track
Three months into his new rehabilitation programme, Ken felt stronger and closer to how he was pre-injury. He was able to complete a 24km off-road trail race in May 2021. He is now back on track to training for the Queenstown Marathon this year.

"I'm really grateful that I am back to running again. It's also been good working with different physios, each helped in different ways and I was eventually able to get back to my baseline," says Ken.
"At the time of my injury, I felt like that was it; I wasn't going to run the way I used to. But what helped in my recovery was to lower my expectations and be kinder to myself. Rather than dwelling on not being able to run the long distances I was used to, I worked on enjoying the fact that I could still run a little bit. From there, I built up and made small incremental goals for myself and worked on forming better running habits, not focusing on the end result but the progress instead."
During Alert Levels 3 and 4, our physiotherapists are still available online via video call on phone or computer. If you are currently experiencing pain and want some advice, contact us and book in today.
Disclaimer
Everyone's injury is unique to them, with multiple factors that can contribute to their pain. We encourage anyone struggling with an injury to do their research in finding the right health provider who can work with their unique needs. Seek different medical opinions and ask questions until you find a health provider that works for you in your situation.